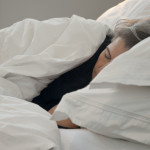 Bedding Out: a new performance with virtual participation

Bedding In Bedding Out is a response to the UK's current welfare benefits overhaul, which threatens many disabled people with poverty. It has been associated with the deaths of at least 32 people each week found 'fit for work'[i] and with a propagandist campaign that has seen disability hate crime leap by 50%[ii].
For 48 hours round-the-clock, in an art gallery, I will be taking to my bed, exhibited behind a red rope barrier.
The work explores the dichotomy between my public and private self, against a backdrop of the larger political changes. I wear a public self that works hard to be energetic, dynamic and happening. I am also ill and spend much of life in bed. The private self is neither beautiful nor grownup, it does not win friends or accolades, and I conceal it carefully. Containable with compromise for the past 30 years, it no longer tenable in the face of benefits changes. Instead, this new system demands a reversal, requiring me to parade my private self to justify support.
In the early stages of benefits reform, waiting to be called for my own reassessment and witnessing the distress of thousands who were called in before me, I lay low. It seemed safer not to be seen at all. But, with time, the performer and the activist have begun to re-emerge; instead of being determined by fear, I'd rather stare it in the face.
In Bedding Out, I will take my private self and make it public, performing the other side of my fractured self, my bed-life. It feels dangerous exposed exciting, and more necessary than ever before. Since the public me is so carefully constructed, so consciously performed, this will be a kind of un-performing of my self.
Throughout the performance, members of the public will be invited to Bedside Conversations, gathering round the bed to talk about the work, its backdrop, its politics.
With this work, I want to make a twilight existence visible. But more, I want to show that what many people see as contradiction, what they call fraud, is only the complexity of real life. Bedding Out is not a work of tragedy, but of in/visibility and complication; a chance to perform my self without façade.
At a previous version of this performance, held last autumn as part of SPILL Festival of Performance, I was contacted by several people delighted that the work was making them more visible, but too ill to attend in person. In response, Bedding Out will use social media to involve absent people around the world virtually.
Here's how you can get involved:
Via the web:
Watch Bedding Out! The performance will be live streamed throughout the 48 hours at http://www.roaring-girl.com. Bedside Conversations will be live streamed with audio, BSL interpretation and live subtitles.
On Twitter (@RGPLIzCrow #beddingout):
Follow the work – and join in! We will have a tweetmeister tweeting in the weeks leading up to the performance and throughout the 48 hours with live updates on the performance, audience reactions and Bedside Conversations. They will be responding to individual tweets. And there will be an all-Twitter Bedside Conversation on Thursday 11 Apr at noon (GMT).
In person:
If you're in Salisbury, come to the Arts Centre! Opening hours and access information at: http://www.roaring-girl.co.uk/productions/bedding-in/show-times/
Make it your own!
This is an experiment: we're not aware of this kind of virtuality, with this level of access, having been attempted before. We're hoping the tech gods will be with us and we would love you to be a part of it.
There are various ways you might participate – as individuals, groups of students, events, conferences, etc. We're beginning to hear from groups and individuals making plans like these:
To pitch in to the twitter feed – give their response to the work, talk about the issues raised – and join in the twitter Conversation
To stream the work continuously in the background of an event or conference
To watch a Bedside Conversation in a disabled people's organisation, student seminar or other group, then discuss it, tweet it, blog it
To use the work as a trigger to produce their own art/performance/activist piece, etc.
The work is there for you to make use of. There are no rules on how to use it so please adapt to your particular interests and circumstances – but do use it!
We'd love to know your ideas, so please email and tweet.
Lots more information on the performance and its political context at: www.roaring-girl.com/productions/bedding-in
Bedding Out
A 48-hour round-the-clock performance by Liz Crow
As part of the People Like You exhibition
Salisbury Arts Centre, world wide web & the twittersphere
10 – 12 April 2013, starts 2.00pm (GMT)
Bedside Conversations (duration 40 minutes)
Wed 10 Apr 2.00pm watch on the web
at www.roaring-girl.com.
Wed 10 Apr 6.00pm watch on the web
Thu 11 Apr noon via twitter
Thu 11 Apr 3.15pm for general public and watch on the web
Fri 12 Apr 10.15am for general public and watch on the web
Liz Crow is an artist-activist working with performance, film, audio and text. She is drawn to drama, life stories and experimental work, and the potential of storytelling to trigger change. She is founder of Roaring Girl Productions (www.roaring-girl.com), a Bristol-based creative media company which combines high quality creative work with practical activism. Liz's work has shown at London's Tate Modern ad National Film Theatre and Washington DC's Kennedy Center for Performing Arts and Smithsonian Institution, as well as on television and at festivals internationally.
Prior works include an appearance on the Fourth Plinth in London's Trafalgar Square as part of sculptor Antony Gormley's One & Other project. Selected as one of The Guardian's'Top Ten Trafalgar', Liz's performance was part of a larger film-based installation that is touring the UK and internationally. Resistance: which way the future? explores the Nazi programme that targeted disabled people and what that history means for us all today.
---
[ii] Riley-Smith, B. 2012. Hate crimes against disabled people soar to a record level. The Guardian, June 19. http://www.independent.co.uk/news/uk/crime/hate-crimes-against-disabled-people-soar-to-a-record-level-7858841.html